Project Haiti: The William Jefferson Clinton Children's Center
How it started
We're building the first ever LEED-certified orphanage and children's center in Haiti.
Immediately following the devastating earthquake in Haiti in January 2010, USGBC's former president, CEO and founding chair, Rick Fedrizzi, appealed to USGBC's members to support the immediate rescue and relief efforts of the William J. Clinton Foundation. Prior to the 2010 earthquake, UNICEF estimated that there were approximately 380,000 orphans in Haiti, with the earthquake doubling that staggering number.
Later, heeding President Clinton's call to not only restore Haiti but also to assist it in becoming a strong, secure nation, USGBC stepped up to oversee the design, construction and financing of the first LEED-certified children's center in Haiti. Rick announced this project during the closing plenary at Greenbuild in Chicago, in 2010.

Project Haiti has been recognized as a Commitment Maker by the Clinton Global Initiative.
Design
At Greenbuild 2010, a 35-person all-star design team gathered at the offices of LendLease to conceptualize the design of the children's center. In the summer of 2011, the international architectural firm HOK stepped in to offer its services pro-bono to turn conceptual designs into actual architectural blueprints. Bill Valentine, then HOK chairman, and Mary Ann Lazarus, then firmwide director of sustainable design, were early champions of the project. Thomas Knittel became the project's chief architect and remained with the project after he transitioned from HOK to McLennan Design. After a comprehensive bid analysis led by C432, Haitian-owned DeMatteis Construction Group and Miyamoto International were chosen as the general contractor and structural engineering firm for the project.
The William Jefferson Clinton Children's Center is targeting LEED Platinum certification under LEED 2009 and LEED v4. The building is also targeting WELL certification from the International Well Building Institute. The design of the center integrates biomimicry to create a locally attuned and responsive building solution. The building references a culturally significant keystone species, the kapok tree, both in the branching diagrid supports of the balcony system and the low emissivity, heat-shedding characteristics of its second skin. Protecting the building like tree bark, a "boundary layer" shields exterior walkways and vertical surfaces from direct sunlight while allowing for daylighting and natural ventilation. The center is designed to be "net-zero" providing critical independence from the unreliable power grid in Port au Prince.
Many partners from across the green building industry stepped up to contribute the many essential systems and products that were needed for not only the children's center building, but the administrative offices of Fondation Enfant Jesus, the Haitian NGO that will own and operate the building. USGBC is grateful to Seventh Wave, Kohler, ValleyCrest Design Group, HGA, RTM, Big Ass Solutions, DHL, Delos, Haworth, GAF, Sylvania, Freeman and the many other companies and individuals who contributed to this special project. A special thanks to Al Skodowski, former Chair of the USGBC Board, for his years of volunteer service for this project. Without Al's leadership, this project would not have been possible.
Naming
In September 2013, USGBC announced that the project would officially be called the William Jefferson Clinton Children's Center, in recognition of the Clinton Global Initiative's longstanding work to engage and empower the global community to find innovative solutions to the world's most pervasive problems, as well as President Clinton's efforts following the 2010 earthquake in Haiti to foster its reconstruction as a stronger nation. It is important to note that this project does not and will not receive funding from the Clinton Foundation or its related programs. The building was financed by the U.S. Green Building Council and its contributors. Fondation Enfant Jesus also does not receive funding from the Clinton Foundation.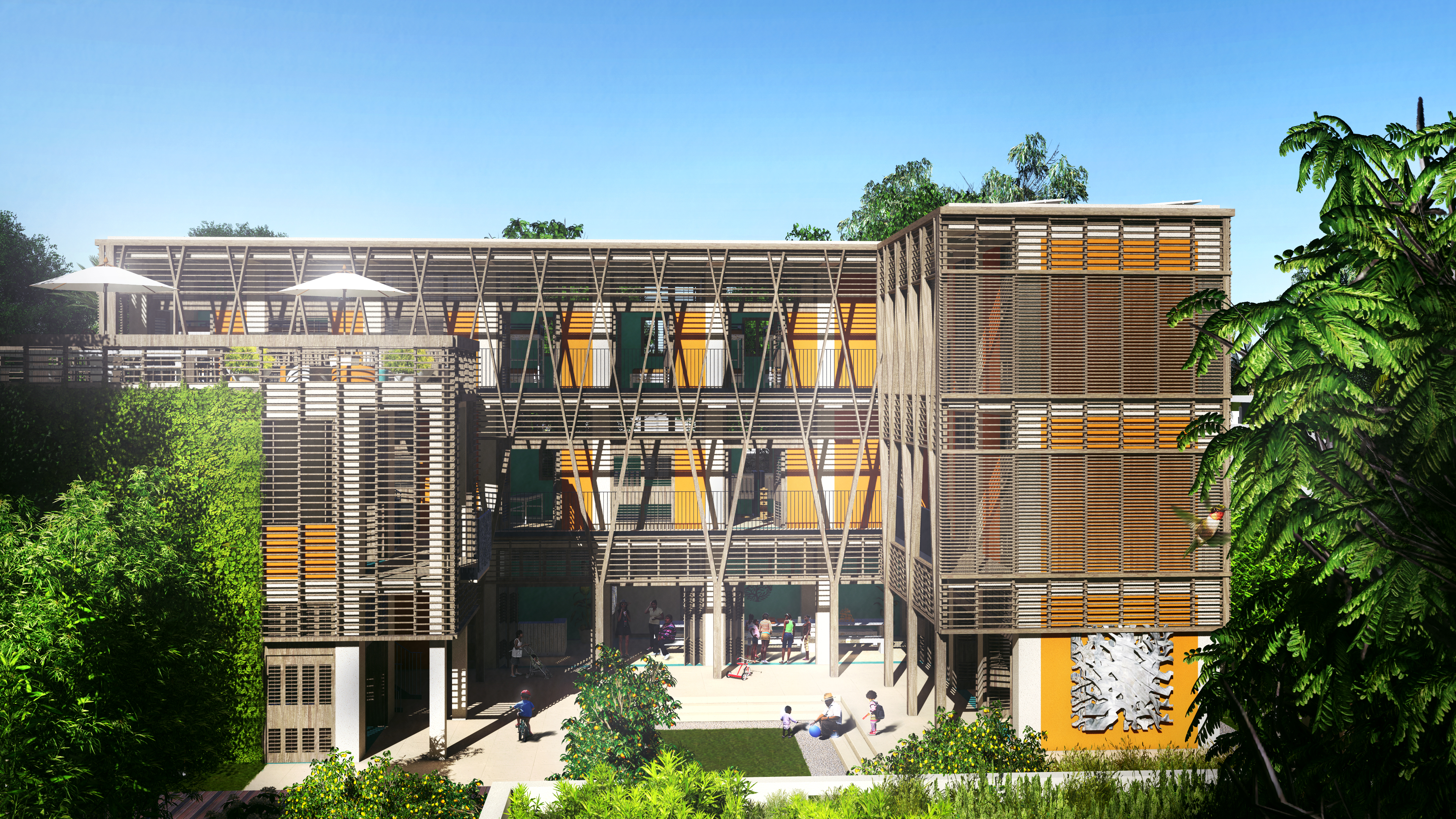 Construction
The William Jefferson Clinton Children's Center will replace a previously successful orphanage in Port au Prince that was destroyed in the earthquake. Following construction of the orphanage and children's center, Foundation Enfant Jesus (FEJ) will operate the center. The William Jefferson Clinton Children's Center is targeted to open in October 2017.
FEJ is a non-government, non-denominational, a-political charitable organization that operated the original orphanage. The center's mission is to provide for the immediate health and emotional needs of orphaned children and provide a pathway to adoption. FEJ aims to break the cycle of poverty by promoting sustainable human development for impoverished children and their families through a robust full-life development program including: culturally-sensitive education, child and family advocacy, health services, community building and enhancement, support for entrepreneurship, and a comprehensive child and family protection program. All of FEJ's services and training programs are provided to marginalized families regardless of race, ethnicity, religious beliefs, or political association. FEJ is supported by grants, government funds, and private sponsorship. USGBC holds two seats on the FEJ Board of Directors; Roger Limoges, who serves as senior vice president for organization design at USGBC, also serves as chair of the FEJ Board.